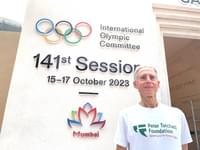 Respect for human rights is vital for Olympics hosts
2036 will be the 100th anniversary of the 1936 Nazi Olympics. Very worryingly, it looks like the 2036 Olympics may be hosted by another tyrant regime.
Back in 2019, the then International Ski Federation President, and International Olympic Committee (IOC) member, Gian Franco Kasper, boasted that the Olympics are 'easier in dictatorships'.
He was responding to a Swiss newspaper about the awarding of the 2022 Winter Olympics to China. "Dictators can organise events such as this without asking the people's permission," he said with seeming approval.
Following a backlash, Kasper tried to row back on his comments. But he had said the truth out loud: sport bosses like powerful regimes that can get things done without long drawn-out public consultation and agreement. That's why they are open to rewarding them with hosting rights to mega international sporting events.
Meanwhile, the IOC states that it will advance respect for human rights across its operations and drive "human rights best practices in the selection of future hosts, and in the organisation and delivery of the Olympic Games."

In response to criticisms that its human rights commitments were just PR spin and lip service, during its recent congress in Mumbai, the IOC declared that it had strengthened them by amending the Fundamental Principles of Olympism to read "Olympism seeks…respect for internationally recognised human rights and universal fundamental ethical principles."

But seeking something does not mean it is a requirement or precondition; only an aspiration. This is hardly a major leap forward by the IOC – just a vague promise that makes it sound like it is doing something serious about human rights.
So let's take a look at the countries that are lobbying for sport's biggest prize. They include China, Turkey, Indonesia, Egypt and Qatar. These are nations with diabolical human rights records on issues such as women, LGBTs, refugees, workers, atheists and ethnic and religious minorities.

Last year's two biggest sporting events were hosted by major human rights abusers. China had the Winter Olympics, despite its repression of the Uyghur people and the Hong Kong democracy movement. Qatar hosted the football World Cup, stained with the blood of 6,500 migrant workers who died building stadia and other infrastructure.
Both the Olympics and the World Cup had global audiences of more than three billion people. They were exploited as opportunities for China and Qatar to refashion their public image as glamorous sporting hosts, rather than the misogynistic, homophobic dictatorships that they are in reality.
Last year's two biggest sporting events were hosted by major human rights abusers
This sportswashing started with the Nazis in 1936. Later, the tyrannical Soviet Union sought to burnish its international reputation by hosting the 1980 Olympics. Russia did the same with the football World Cup in 2018. It was a gigantic and very lavish public relations exercise to soften up critics and deflect attention from Putin's dictatorship.
In 2008, the Beijing Olympics were promoted and justified as a force for good but what we got was human rights defenders arrested, labour rights abused and civil society repressed.
Many people will say that major sporting events bring scrutiny and that global attention adds to pressure for reform. Did Russia's human rights record improve after the 2018 World Cup? No! It got worse – and it invaded Ukraine. China made a lot of promises ahead of the 2008 Games and broke most of them; only to then be given the 2022 Winter Games - a de facto reward for dishonesty and abusive policies.
China, which is now bidding for the 2036 Olympics, is still arresting journalists, bloggers, lawyers and activists for the rights of women and workers. It's dismantling freedoms in Hong Kong and jailing democracy campaigners there. In Xinjiang, China commits crimes against humanity. At least one million Uyghur people have been detained without trial and subjected to compulsory 're-education'; with many suffering torture, forced sterilisation and abortion. Beijing's aim is the cultural erasure of Uyghurs and other Muslims.
These violations make the China the wrong host for the Olympics – an event the IOC says will "celebrate humanity."
So far, the IOC has shown minimal concern about Chinese rights abuses. The best we can expect in the future is a polite tut-tut and more mostly worthless promises of reform.
Last year I staged the first LGBT+ rights protest in a Gulf state, in Qatar, just before the start of the football World Cup. It was against the jailing, torture, and so called 'honour' killing of LGBTs. I also highlighted the abusive state-sponsored conversion centres that seek to turn LGBTs straight and cisgender.
But that was not the only issue that I raised. Qatari women are treated as second class citizens; having to get permission from a male guardian to marry, study, travel and seek certain jobs.
Despite Qatar dripping with cash, two million low-paid migrant workers are forced to toil excessive hours in extreme heat, employers often withhold their wages and they are billeted in sub-standard overcrowded hostel accommodation. Both FIFA and Qatar promised reforms. But the reforms were limited and poorly enforced.
Emboldened by FIFA letting them get away with these grotesque human rights violations, Qatar is now bidding for the 2036 Olympics. It is gambling that the IOC will not rule that Qatar's human rights abuses are a stumbling block to it hosting the Games.
The IOC should prioritise human rights over profits, glitz and showmanship. If it colludes with China, Qatar and other contending dictatorships, its reputation will be even further marred.
Hosting the Olympics is a privilege, not a right. It comes with obligations and these must include adherence to international human rights standards. No country should be rewarded for tyrannical, abusive behaviour.
The IOC's human rights commitments will only be genuine if it agrees that the Olympics will never again be awarded to an authoritarian nation that tramples on human rights – no matter how much cash and how many promises they flash at the IOC delegates.
The Olympic motto is "Faster, Higher, Stronger – Together." Now is the time to add "Diverse, Free, Equal – Together."
Respect for human rights must be a precondition for any country to be awarded the 2036 Olympics. Over to you, IOC.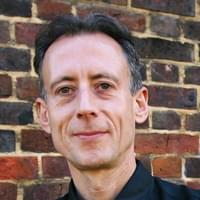 Peter Tatchell is a human rights campaigner, long-standing LGBT+ activist and is Director of the Peter Tatchell Foundation.
What to read next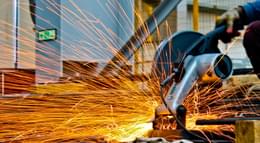 The Chancellor should use his Autumn Statement to give support to...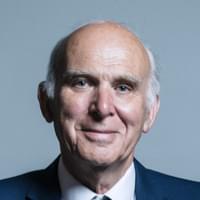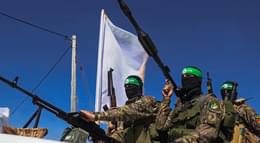 Islamic Revolutionary Guard Corps encourage an "apocalyptic war" against Jews and...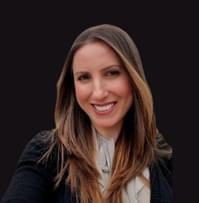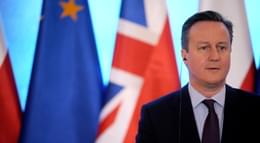 Despite strong personal relationships, David Cameron brings with him a slew...